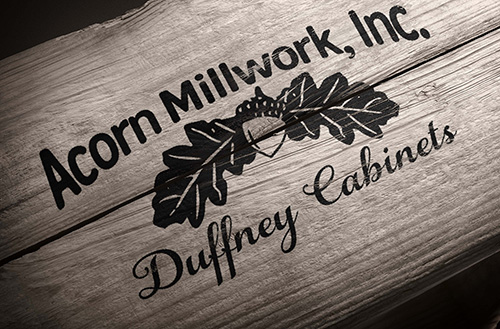 Timothy Duffney
Owner/President
Tim started his cabinet business right out of high school in a back yard garage in 1979. While Tim faced many obstacles he never let them stop him. From the beginning he worked through the hardships of growing a small business to become a leader in the area. He developed relationships with machine manufactures to develop equipment that gives him an edge over the competition. Tim has been all over the world seeking the best practices in production and equipment. Tim meets with customers and keeps the millwork side of the shop pushing out product. Being president and CEO of Acorn Millwork keep Tim very busy. In his free time Tim enjoys spending time with his wife, Colleen and their 4 children. He is also an avid outdoorsman; hunting and fishing when ever he gets the chance.
Colleen Duffney
Co-Owner
Colleen's role here at Acorn is very similar to her role as mother to 4 amazing children. Her sunny smile greets the guests and she is always on the run taking care of the little bits and pieces. Of course being the administator, book keeper, and receptionist, keeps her on her toes but she always finds time for her family, her faith, and a little fishing.
Levi Duffney
Lead Designer
Acorn Millwork is a family affair so it's no surprise that Levi has taken on a major role here. Levi has worked hard to establish his role as lead designer for the cabinet shop. He prides himself in his customer service, utilizing all of his knowledge and skill to complete even the most detailed and difficult builds and installs. In Levi's free time he enjoys spending time with his wife Calliegh and their precious new baby.
Zane Duffney
Production
Zane has taken on the role of mastering the new machinery here at Acorn. He programs the CNC for cabinet building and machining and takes an active role in the laser room developing programs for special projects that come into Acorn. Besides running the computerized equipment his active roll on the floor helps keep the rest of the cabinet shop crew running. In his free time he likes to hunt and fish and enjoys spending time with the family.
We Design
together…   with You!