Thermowood makes a beautiful wood floor for places prone to moisture.
Thermowood's low moisture content and hardened fibers creates a very decay resistant product, making it a great choice for humid areas or where dampness may occur occasionally. It also reduces the cupping and warping found when using standard lumber and creates less shrinking. Although Thermowood is not recommended not to be used in heavy load bearing structural usage it has many other applications. This product makes beautiful siding and flooring and is a great fit for kitchens and bathrooms where moisture can occur.
As with all materials exposed to the natural environment, surface mold growth can appear on Thermowood. Due to bacteria in the air or dirt carried in the rain. Fungi can grow on the treated surface. However this is on the surface only and can be removed by wiping or scraping it off. Like most woods, Thermowood can't withstand UV radiation. If Thermowood is not sealed, the UV will change the color of the wood. A surface treatment is recommended to keep the original color.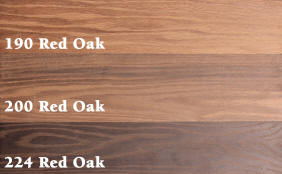 Color Variations When Cooked at Different Temperatures
(Un-treated Red Oak)